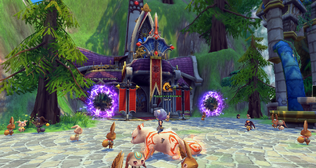 The Hoppadrome is located in
Elysium
west of Fountain Square. Both solo players and groups can go into the Hoppadrome via the portals but tickets are required for battle. Four silver tickets are requred for solo and four gold for groups. Players will speak with the Trialmaster to get started. Once the tickets are turned in, a new portal will open for players to enter. This will take them to the battle arena.
Gold tickets can be traded in for silver ones at the Hoppadrome vendor if the player has them and would prefer to do the solo version. 
The Hoppadrome is a large indoor platform on which players will fight against poweful Dragomon bosses. The selection is completely random. The loot is also random but will come from that specific boss' loot table with a chance of dropping rare items. Each concurrent fight will require four more tickets that players will be able to redeem inside the building. 
Manuel the Hoppadrome Trialmaster will explain the Hoppadrome to players if asked:
"The Hoppadrome is THE place for criollos to get their fill of entertainment most savage! Hunters step into the ring and take on ferocious beasts in a battle of strength and will! Look no further if you are on the lookout for thrills, chills, and the occasional blood shower! After all, these fervid fiends have mås dientes que una pelea de perros!"
Tickets
Hunter's Hoppadrome Ticket (Silver) Lv38
Hunter's Hoppadrome Ticket (Gold) Lv38
Hero's Hoppadrome Ticket Silver) Lv48
Hero's Hoppadrome Ticket (Gold) Lv48
Bosses Trapper's Hoppadrome:
Bosses Stalker's Hopppadrome:
Mandible
Billy the Six Pack
Bellicose
Mantagonist
Maverick
Cyclonia
Bosses Hunter's Hoppadrome:
Jonnie B. Jones
Dracorleone
Helmut
Warley
Simmbal
Whitefang
Blitzen
Krellborn
Blaidly
Bosses Hero's Hoppadrome:
Charkle
Aracutio
Killian
Presley
Broward
Griffingore
Drill Bill
Pawler
Chatterina
JoJo
Spectro
Gallery
Community content is available under
CC-BY-SA
unless otherwise noted.